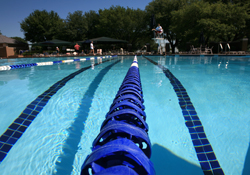 The swimming facility provides a fun atmosphere to cool off and socialize in the Texas summers. The pool has ample shaded areas and a food and beverage service available to satisfy your party's needs. There are also locker rooms and shower facilities available as a part of the swimming complex.
Mira Vista Country Club has an active Swim Team that practices and competes throughout the summer. Swim lessons are also available upon request.
We offer two fitness facilities equipped with modern Nautilus machines, treadmills, elliptical, bicycles and free weights. The facilities are contingent to the Ladies' and Men's locker rooms, providing convenient shower and locker facilities. Additionally, jacuzzi and wet & dry saunas are available.
Several personal trainers can adapt a program to fit your personal fitness requirements. Besides the individual training, there are weekly 'boot camps' throughout the year that provide sessions for cardio, weights, abs and stretching.